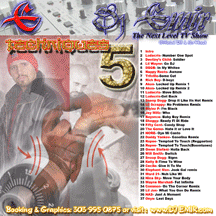 Techniques Volume 5 Hiphop MixtapeHolly Shi...
This is melting my CD player. Mixtape Volume 5 turns it up another notch and hits another home run with mixtapoe enthusiasts everywhere. Incorporating hot mixtape remixes, crunk music and smooth reggae and reggaton this mixtape is where the party's at. Quite likely the best
Urban Party Mixes
on the internet. Pop it in when cruising down the street or at your next party.
37 Tracks deep with heat like 50's "Candy Shop", Ludacris' "Get Back" Lil Wayne's "Go DJ" & Lil Jons "What U Gone Do Remix" & Special DJ Emir remixes of Akon's "Locked Up" Beyonce's "Baby Boy" and Snoop Doggs "Drop It Like It's Hot" this is a guaranteed heater. Handle with gloves! Its Hot.
Just $9.99 for a super Jam packed 80 minute Mixtape CD or better yet...
For a limited time his website is offering discounts on Mixtape Superpacks. check out the offers at
www.djemir.com
:
Mixtape 3 pack
Only $25 for Three 80 Minute Mixtape CDs
Mixtape 4 pack
Only $32 for 4 80 Minute Mixtape CDs
Mixtape 5 pack
Only $40 Buy 4 Mixtape CDs get one *F.R.E.E*